You ever have one of those days where it TAKES all day to get a simple post finished? I started this one 12 hours ago & kept getting sidetracked - LOL!
This image is a new one from Wax Fruit Company called "
Home Cooked Meal
"... kinda a goofy little digi! Super fun to color, though! I used 2 heart doilies that I folded and tucked under the image.
This is a slight departure from my normal style. I usually like to use a dry embossed white background and lately a clean and simple style. This is pretty simple, but I thought for this image the gingham background would be more effective.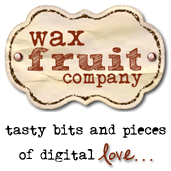 I got to play with the
Sweet Sunday Sketch
this week - YAY!!!
A couple other challenges I'm entering this card in: