Good morning!!! This is my 1000th post - WOOHOO!
Jen has an awesome new sketch today over at the
Deconstructed Sketch
! I used the Paper Smooches set,
Boob Tube
- AGAIN! It's so darn cute! I actually put the sentiment on the block curved, that's one thing I love about acrylic - they're bendy! Of course you wouldn't want to leave it that way for long! I drew the colored waves on the TV, and bent a piece of wire for the TV antennae.
I also used an old
PS Sparks Challenge
for this card.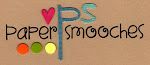 Here's the sketch...