Good morning, are you ready for the weekend? We're having a retirement party for my grandfather, who decided a month or two ago at the 88, that is was time to relax! WOOHOO! We all worried how he would enjoy a more relaxed life, and so far so good! He's taken up playing Conasta at with the local seniors a couple days a week and has been enjoying visiting his pals at Hardees every morning for a cup of joe.
I got some new goodies from
Paper Smooches
this week, it's been a while since I tried a new company (that wasn't digi) and since I've been seeing so many cute cards lately using their stamps, I just HAD to get some!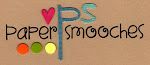 Thanks for stopping by,