Happy Monday! It's Christmas again, LOL! Okay, it's NOT Christmas, obviously, but I can tell you this - I'll have all my cards ready waaaaay before it's here since I play every Monday with the
Merry Monday Challenge
! Today's sketch is both classic & versatile, so do yourself a favor and play along!!!
I used the light blub (heehee - my baby brother always called them "blubs") from the
Paper Smooches set, Perpetual Bliss
, to create a string of Christmas lights. I cut a piece of paper to block out the script "love" in the bulb, although it slipped a little and I got some of the edges of it inked onto the card. But then I thought they looked like highlights, so I didn't re-do it! I set the type and printed it on my white panel.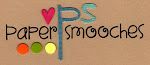 Here is the sketch for this week & the other Merry Monday ladies, I hope you'll go see them, too!
Please be sure to visit the

Merry Makers Design Team:
Thanks so much for stopping by!