I wish you could see lovely ink on my hands! I have to admit, I forgot how fun that part of stamping was! Of course, there have been little bits of stamping here and there on my blog, but the last week since I've gotten my new acrylic stamps has been so fun!
My card today is for
Color Throwdown
, they had a peek on FB of the palette for today ~ WOOHOO!!! I combined it with this week's
RetroSketch
. This adorable image is from Paper Smooches, from the set
Perpetual Bliss
.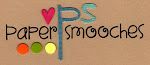 Here are the 2 challenge badges...
Thanks for stopping today!