Hello! We have fabulous new sketch today over at The Deconstructed Sketch today, designed by Amber! I used this fun little image from All That Scraps, the
Witches and Goblins Meoples - so adorable! I've been on a square card kick these days... so I'm continuing that trend!
Here's the sketch!
Be sure to head over and check out the other ladies cards over at Deconstructed or visit their blogs...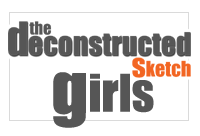 Thanks for stopping by!