Good morning! Hope you're having an awesome week! We have a brand new sketch for you over at
Deconstructed Sketches
- I just love the shape of this card! I used a new image I drew the other day, too! It'll be in the
Wax Fruit Company
shop a little later! With school back in session, it seems another hectic summer is almost behind us! We have 2 more little family trips planned, and then hopefully things will get back to normal!
Here's the FAB sketch, you should
come play
with us!
Here's the new WFCo image, Calliopsis.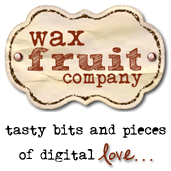 And here's something fun (pardon me for showing my geek side - lol!) - if you have a code scanner on your smart phone, scan this code to read more about the Calliopsis flower...
Jeff, the kids and I started walking in the evenings with some church friends who are also neighbors, this week. The weather is starting to not be as unbearable... don't get me wrong, though - it's still HOT! They have a little girl who's 2.5, about right in between Maisie & Alex, we're quite the sight - 4 of adults a wagon and a stroller - sorta our own little parade. With all the stops for water and settling the kiddies down it takes us about 40 minutes to walk 2 miles - whew! But it feels really good to get some exercise, which I hate to admit hasn't been part of my routine since I was pregnant with Alex!
Bye for now...