I'm sure you were expecting a St. Patty's Day card.... sorry to disappoint! All weekend (in my spare time) I attempted to make a card for this week's Color Dare. The inspiration is beautiful, but the cards I was making were not. There are parts & pieces in More Mustard, Real Red & Tempting Turquoise all over my stamping area... the ones that had any Gable Green are in the recycling bin - I just COULDN'T make it work! But since it's a challenge, I kept thinking about it. Around 9:30 last night, after Jeff & the kids went to bed, IT HIT ME! And it kept hitting me until midnight (lol) - but here it is...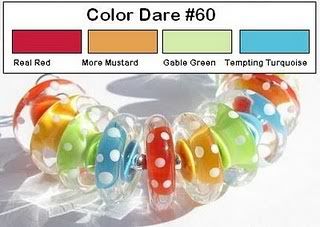 I'm not sure if it's been posted yet, but the colors are from this week's
Color Dare
, and the sketch is from
Card Positioning Systems
. So my theory still holds true... there is always a way to use any color combo, as long as you have a great sketch!
The buttons are both Stampin' Up! and Papertey Ink. The sentiment is from PTI, as well, the Tiny Treats : Valentine set.
Have a great day!!! And THANK YOU so much for taking the time to visit!