Happy Tuesday!!! Not only do we have a smashing new
colourQ challenge
for you today, I also have a couple new stamps at the Wax Fruit Company!
The one I used for this card is called
Toy Boats
, and comes with one image and one sentiment. It's hard to tell, but I simply printed out the image twice and colored the one sail and popped it up on the main image.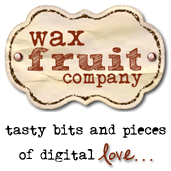 Here's the second new image,
Apple Blossoms
.
Bye for now!