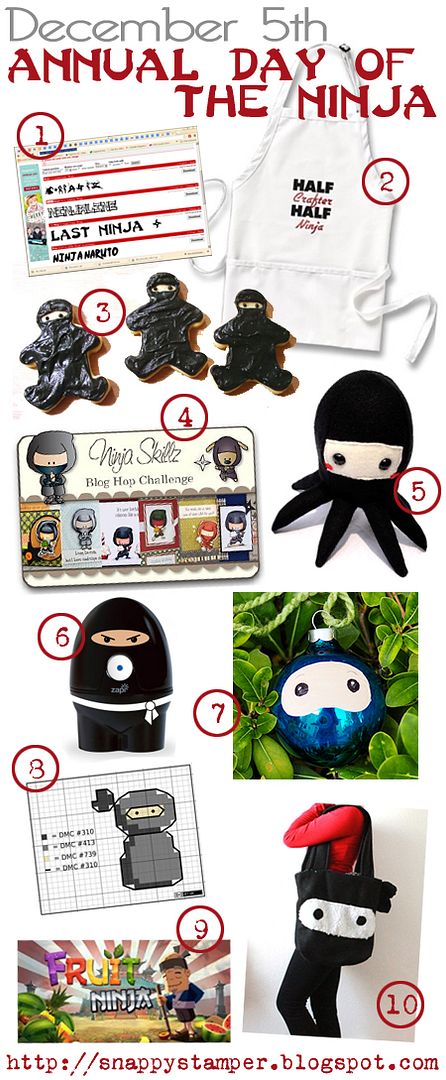 Well, have no fear - if you DID miss Annual Day of the Ninja, I have a little re-cap of the "Best of Ninja". These things will help you conjure up your inner Ninja all year long...
1) Find an "official"
Ninja font
, and everything you write will appear to have been written by a real Ninja.
2) Get crafty like a real Ninja in this
super cool apron
. Everything you achieve will be done with stealth and precision.
3) Use your gingerbread cookie cutter the rest of the year to
make cookies
like a real Ninja would eat. (Everyone knows Ninjas love cookies.)
6) Every Ninja knows to promote balance in the universe one must
sanitize their toothbrush
. Stinky breath Ninja don't get very far in life.
9) Real Ninja also sharpen their skills by slicing fruit. LOTS of fruit. You can save money doing it digitally~ a buck gets you all the Ninja fruit you could ever slice. You WILL
feel like a real fruit slicing Fruit Ninja
.
10) Every Ninja on the red carpet will be sporting one of these
Ninja tote bags
this year... it is the height of Ninja Haute Couture. Really. You need it.
And there you have ~ everything you need to look, feel and play like a real Ninja. Any day of the year.
Ninja hugs!