Good morning! Hope your weekend was fabulous! Mine was very interesting... but I'll get to that later! We tart a new challenge over at the Pink Elephant today, WOOHOO!
Our challenge this week is Print It!
All you have to do is use something with script, words, print on it. I decided to write around the edge of my image.
This image is from
A Day for Daisies'
exclusive February Club Kit, and is called Love Hurts. You can only get your hands on this image by being a club kit member!
Check it out here -
just scroll down half the page to see February's kit. Even though the image is called Love Hurts, I loved that the end of his little quills were turning into hearts, so that's why I wrote, "Love... has the power to transform...".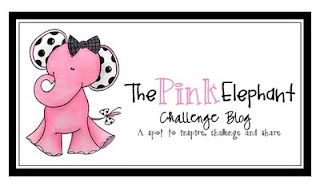 Okay, so about my interesting weekend... Jeff and I went to a dinner theater Saturday night. We were supposed to go Friday, but I had to re-schedule a couple months ago - I forgot he'd be on the evening shift. Anyhow, when we walked in and were seated at a large round table for eight, I thought the lady sitting next to me looked REALLY familiar. A few minutes later we were all talking and long story short, she and I lived in the same dorm at the small liberal arts college I graduated from! Not only that, we had been casual friends. Now she and her family live here and she teaches at the high school! How cool is that?!?
Have a great Monday!!!